Oh, the bustle, the glitter, the animated window displays. Is there anything better than Manhattan at holiday time? Well, maybe  Manhattan with a couple jewelry previews thrown in.
I schedule December visits to coincide with the Magnificent Jewels sales at Christie's or Sotheby's and this year, both fell on the same weekend. Hallelujah! (Cue Messiah.)
We started at Christie's in Rockefeller Center first, always a madhouse this time of year, then strolled uptown by way of Fifth Avenue to the much quieter neighhood where Sotheby's has its showrooms.
Christie's was previewing ancient jewelry, part of their December antiquities sale, and both houses were not only having "Magnificent Jewels" sales but Tiffany lamp sales too. It was hard to remember where we were sometimes.
In fact, there was so much Tiffany, I've decided to start with a tribute to that New York legend, starting with its flagship store at 57th and Fifth Avenue, arguably Manhattan's most important retail corner – definitely for jewelry. Van Cleef & Arpels, Harry Winston, Cartier are steps away, along with the stateside flagship stores of the rest of the world's most celebrated jewelry houses.
Tiffany doesn't really compete with them in luxury goods any more but this is still their corner, and has been since the store relocated here in 1940. The company goes back a century before that, becoming Tiffany & Co. in 1853 when its focus shifted to jewelry.
It's a piece of Americana now and the crowds flocking in and out of the grand entrance last weekend attested to that. Here's how T&Co. decorated for the holidays this year.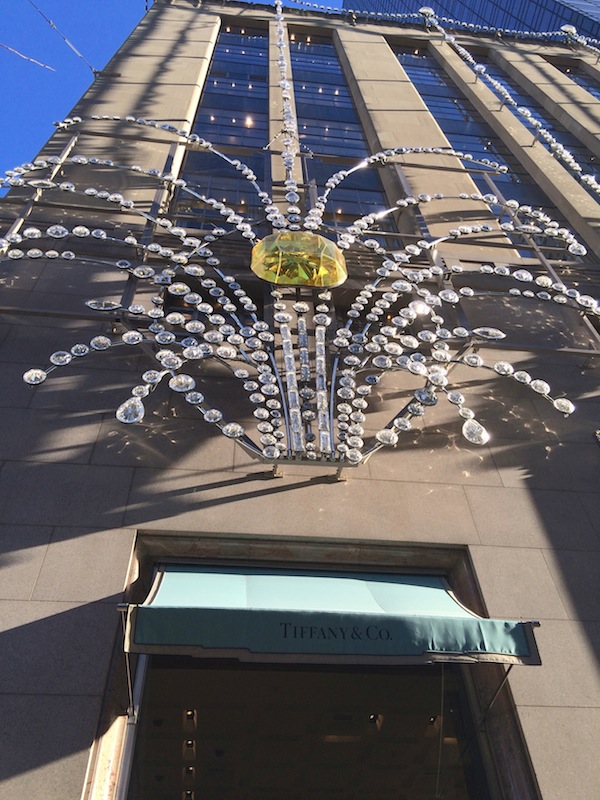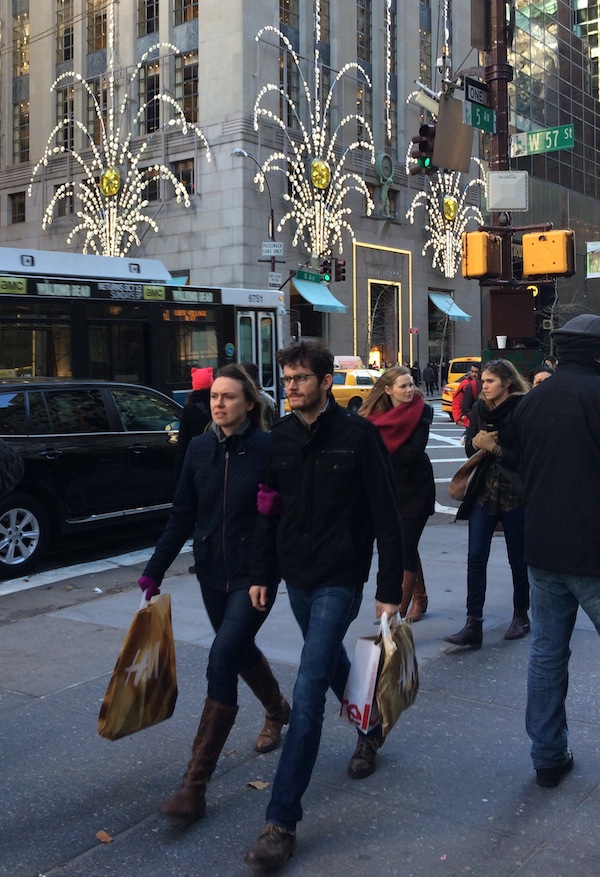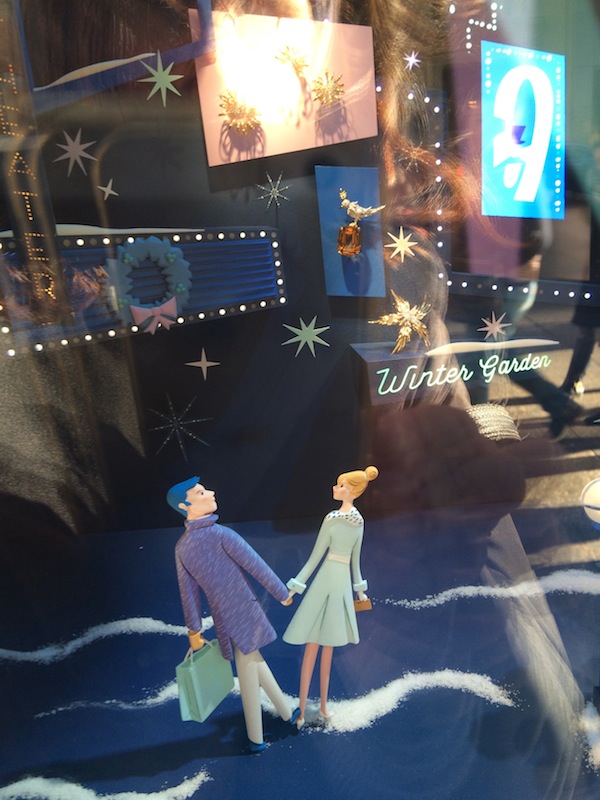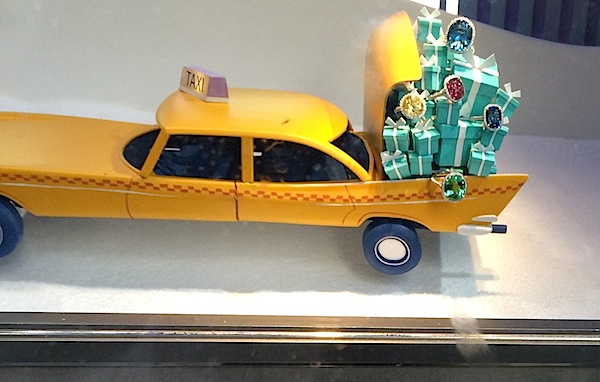 Tiffany jewelry has gone noticeably downscale and the displays kitschier since Gene Moore designed the pared-down, mid-century modern windows Audrey Hepburn (as Holly Golightly) was peering into at 5 a.m. in 1961.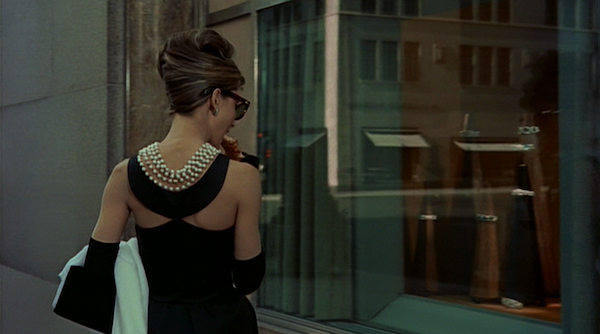 "What I found does the most good is just to get into a taxi and go to Tiffany's. It calms me down right away, the quietness and the proud look of it. Nothing very bad could happen to you there," Holly Golightly said by way of Truman Capote, in Breakfast at Tiffany's.
Another Holly Golightly quote about Tiffany involved "… those kind men in their nice suits, and that lovely smell of silver and alligator wallets."
We can't help wondering what she would have made of this year's doorman.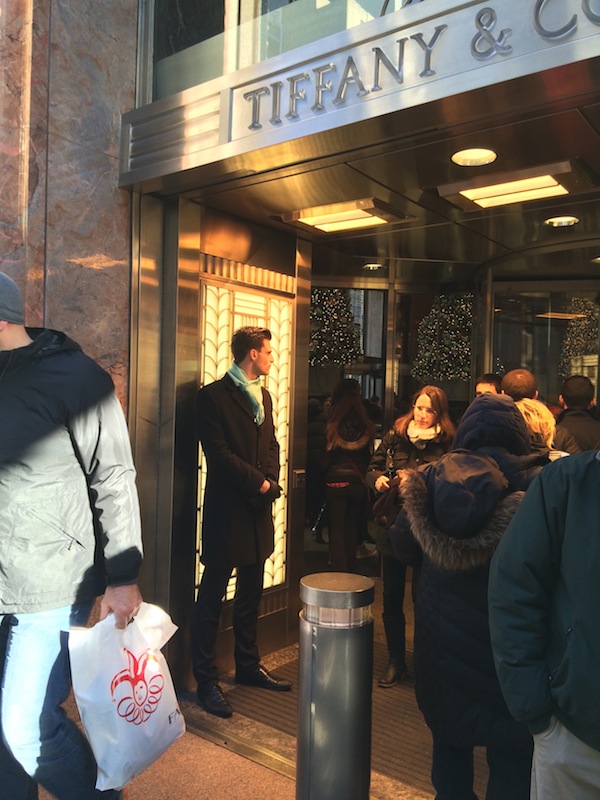 Maybe we had Tiffany on the brain after Fifth Avenue window shopping but both Christie's and Sotheby's seemed to be presenting a historical retrospective, particularly regarding the third generation. A little refresher: Louis Comfort Tiffany, born in 1948, began as the founding family's rogue artiste. After studying painting at home and abroad, he produced some amazing art jewelry, swept up in the Art Nouveau craze that overtook in Europe during the last decade of the 1900s.
Having found his calling in the decorative arts and established a distinctly American take on Art Nouveau, Louis took over the design department at Tiffany & Co. in 1902, after his father died. With the help of the firm's resident gemologist-extraordinaire, George Frederick Kunz, who helped him find unique colored stones to work with, he breathed new life into the venerable firm.
New life came again when designer Jean Schlumberger joined the firm in 1956. We found a little of all that at Christie's and Sotheby's last weekend. Here's a taste.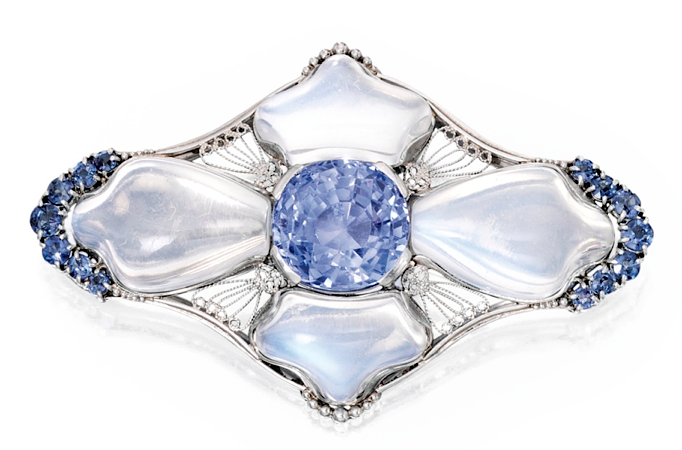 Brooch of platinum, moonstone and sapphire designed by Louis Comfort Tiffany, c. 1920, sold for $62,500 (on estimate of $20,000-30,000) at Sotheby's New York on Dec. 9.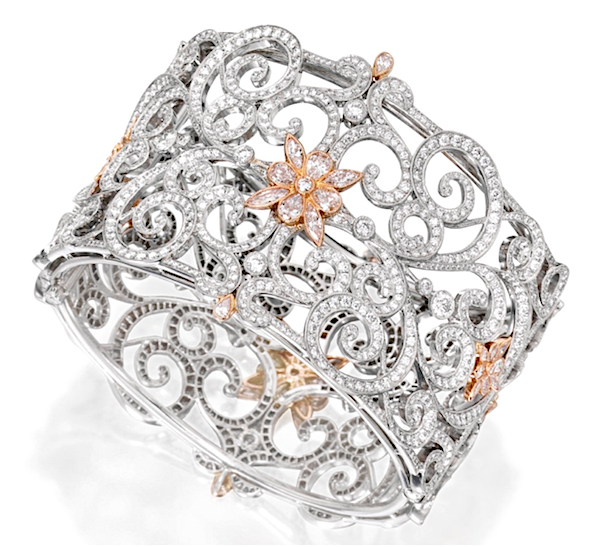 This Tiffany & Co. bracelet of platinum, rose gold and diamonds sold for $56,250 at Sotheby's New York on Dec. 9, 2014.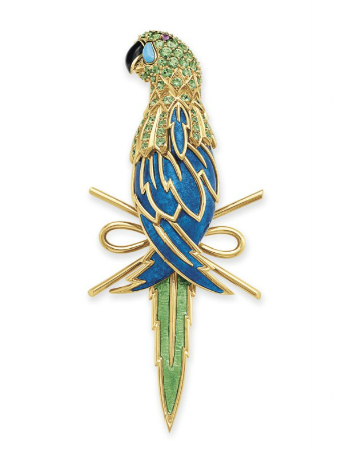 This parrot brooch by Jean Schlumberger of enamel, tsavorite garnet, turquoise and pink sapphire sold for $17,500 at Christie's New York on Dec. 10, 2014.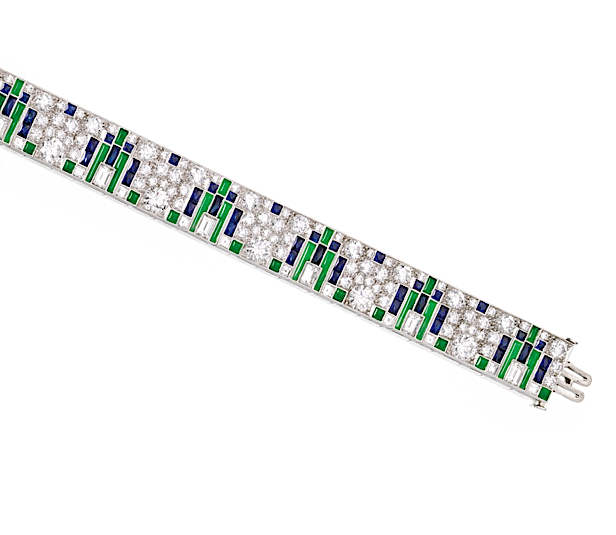 This bracelet in the form of stylized city skyline by Tiffany & Co. of jadeite, sapphire, diamonds in platinum sold for $47,500 at Sotheby's New York on Dec. 9, 2014. 
And here's a peek at the non-jewelry auctions of Tiffany & Co. treasures, primarily the art glass and stained-glass lamps designed by Louis Comfort Tiffany, first at Christie's…
Then at Sotheby's…
"I don't want to own anything until I find a place where me and things go together," Holly Golightly said in Breakfast at Tiffany's:
But… not even a Tiffany lamp with a base in the shape of a Maryland crab? This one is expected to sell for $250,000-350,000 at Sotheby's New York on Dec. 17. I'm thinking Holly could make it work.
[Update: Dragonfly lamp, c. 1910, at Christie's sold for $245,000. At Sotheby's, the Wisteria lamps, c. 1901-1905, sold for more than $1.1 million each and crab-base Peony lamp, c. 1905, sold for half a mil.]
Related products