After a year when women wore black to the Oscars to honor the #MeToo movement and powerful men were held accountable, the holidays are approaching with tension in the air. I suspect we're getting ready for a style shift.
Look for the layers of dainty chains women have been wearing to give way to bolder jewels. I'm starting to see more sculptural pieces, including mod rings from the sixties, and wartime Retro seems poised for a comeback. At antique jewelry shows lately, I find myself drawn to those bold, mid-century styles.
Retro was a style that took hold during the Second World War. As men went into battle, women found themselves working as truck drivers, mechanics, electricians, auxiliary pilots, and spies. It was the era of the tough broad, sexy and dangerously clever, like the ones played by Joan Crawford, Barbara Stanwyck and Lauren Bacall.
A couple years ago at the Las Vegas Antique Jewelry & Watch Show, I was obsessing over snakes and serpents. This year, I had my eye on Retro.
My first stop was the booth of Camilla Dietz Bergeron LTD, whose founder passed away just before Jewelry Market Week. I associate Retro with Camilla, maybe because she was talking Retro when I first heard her speak. She did a lot to popularize Retro in her second career as an estate jewelry dealer. Before that, she was a financial analyst who co-founded a Wall Street firm in 1973, sold for $110 million in 1988, then went into business with partner Gus Davis selling antique jewelry.
It makes sense that Camilla championed Retro. She fit the profile of smart, tough broad and Retro was a strong look that she wore well.
Camilla did a presentation on Retro jewelry at Jewelry Camp the first time I attended about 20 years ago, and I interviewed her about it afterwards. One of the best things she did for Retro was demonstrate how to wear it. This is pretty much how she looked when I first saw her.
"You don't have to do contortions to figure out a way to put on Retro jewelry. Obviously, jewelry that people can wear is easier to sell." -Camilla Dietz Bergeron
Retro represents a period when women were empowered and independent, supporting their families with jobs they weren't supposed to be capable of. It's also a period when the U.S. fashion and jewelry industry, cut off from the supply and inspiration of war-torn Europe, established a style of its own – eye-catching, sometimes gaudy, strongly influenced by Hollywood.
The style itself was actually established in Paris well before the Nazis marched in.
Retro style began with florid designs incorporating platinum and precious gems – materials that were about to become unavailable in to the famous jewelry houses of Paris, and just about everywhere else. Platinum and high-karat gold gave way to lower-karat gold, sapphires and diamonds to citrine, aquamarine, and amethyst.
The scale of Retro remained big and flashy but as the materials became less precious, the jewelry became more accessible. This is a look that worked on the big screen, in the spotlight, at nightclubs, and with tailored fashions of the day.
As always, Camilla's booth had some first-class Retro in its cases this year – beautifully designed, not necessarily over the top. As she used to say, "I buy pretty." Here is one piece that caught my eye.
A remnant of the days when you never went anywhere without a lipstick – and expected an audience when you pulled it out of your purse.
"Forties jewelry is big, but it's very wearable," Camilla told me. "It works well with tailored clothes, especially on tall women, but it also looks great with a T-shirt and jeans."
Here are a few of Camilla's tips on working the Retro.
How to approach forties jewelry, according to Camilla Dietz Bergeron:
° Always check the size of Retro necklaces, often made too small for today's throats.
If you really love it though, you can add some length at the clasp.I would try not to destroy the integrity of a valuable piece but with most strings, you can get your jeweler to add or subtract here.
° Avoid wearing suites of jewelry all at once — a dated look.
Notice in the photo above, she's wearing a pieces from similar era and scale but none match – and a Retro bracelet that looks almost contemporary and so simple it goes with everything.
° Wear Retro necklaces with a white t-shirt, nice jacket and no other jewelry.
This image is solid evidence that you can rock a white t-shirt at any age, but I suspect the necklace she's wearing is not the kind she's referring to. I imagine she meant something more like this.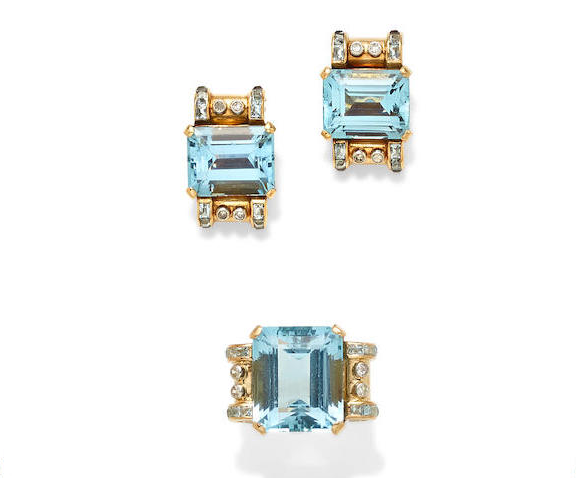 Or maybe this…
° When in doubt, go for the more tailored piece.

° Wear double clips separately — at odd angles, on the neckline, at the waist.
What to do with those little clips so ubiquitous in the 1940s, worn then as matched sets? THIS. I love her suggestion to wear them at the waist, especially the bigger ones. I would also add: in the hair! Especially if they have some sparkle: perfect hair ornaments. But secure them well.
° Avoid replacing ear clips with posts; most earrings from this era are too heavy. Personally, I can't do this. I've tried. Those clips are painful. They do keep those honking earrings on your lobes though.

Finally, a few Retro bracelets I tried on in Las Vegas this summer, starting with my favorite from Camilla's booth (see my Instagram feed for a video):
That last one is corsage style, from a time when men would bring corsages as a gift from a woman to war on her wrist, and not just on prom night. Note the polished gold and giant emerald-cut aquamarine – all signatures of Retro cocktail party jewels.
It would take a bold woman to pull that off today, and it's probably not a choice Camilla would make. But I bet Barbara Stanwyck wouldn't hesitate – at least on screen.
For those of you new to this genre, here are some trademarks to look for when you're combing through estate sales:
Trademarks of Forties Jewelry



 Influences on design:
° rise of the cocktail party – giving birth to b statement rings and bracelets

° more women buying for themselves – because they were earning their own paychecks, often doing jobs no one had thought them capable. Thus empowered and independent, their jewelry gets bolder and more whimsical.
° a new appreciation of machines and mechanical elements
° designed for more streamlined fashions: padded shoulders, wide lapels, straight skirts – thus necklaces tend to hug the throat, lots of clips for lapels, emphasis on wrists

Typical materials:
° a new emphasis on polished gold due to restrictions on platinum and the U.S. going off the gold standard
° fewer precious stones, more semi-precious, synthetics and paste
° paladium – used occasionally in place of platinum but harder to work, tarnished easily, and fell out of favor after the war.
Popular forties styles:
° double clip brooches
° flexible bracelets, cuffs with buckle clasps, bracelet watches
° cocktail rings
° short, tight necklaces
Popular forties motifs:
° stars, fans, knots, ribbons, bows, scrolls, volutes
° patriotic: flags, jeeps, Uncle Sam, stars, military insignia
° nature: animals, flowers, insects
° architectural: brickwork, clean geometry
° ballerinas, popularized by John Rubel & Co.
Wartime innovations:
° hexagon and scale patterns in gold from Van Cleef & Arpels
° expanded use of invisible settings, started by Van Cleef & Arpels in the thirties
° convertible and flexible jewelry
° slide and zipper necklaces
° innovative clasps, hinges, buckles and other hardware
Late 40s trends:
° return of platinum
° more flower motifs, inspired by Christian Dior