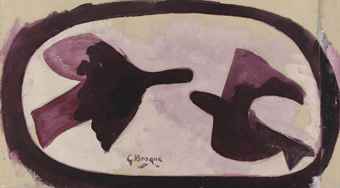 This small work on paper by Georges Braque titled "Oiseaux" (birds) will be auctioned at Christie's London next week, one of many loosely-styled studies of birds in flight the artist produced in the final years of his life, working with a master printmaker.
At the same time, in the early 1960s, Braque teamed up with a jeweler to produce his first and only jewelry collection using the same motif – the bird in flight – along with other stylized images and mythological themes from his art works.
"Oiseaux" is expected to bring $38-54,000 – four times the price a similar bird bearing the artist's name ("Bijuoux de Braque") brought at the same auction house on Wednesday, and that bird was made of gold and set with sapphires.
"Teree" was one of four gold brooches designed by Braque in the June 13 jewelry sale at Christie's London. All sold for slightly above estimates, between $9 and $13 thousand. Three depicted birds in flight, one the profile of a woman.
Braque (1882-1963) is best known for the Cubist-style painting he pioneered with Pablo Picasso in the years leading up to World War I. When he resumed work in 1916 after a severe head injury, his art took a more ethereal direction. While he remained devoted to the fragmentation of Cubism, he abandoned the angular abstractions and began to explore still lifes, color and texture, and eventually stylized human forms.
Beginning in 1961, the 79-year-old Braque began working with Baron Héger de Lowenfeld on a collection of gold jewels translated from the artist's lithographs and graphic works.
As famous Modern artists go, Braque was one of the more successful at spinning his art into gold, despite the last-minute effort it represented. He certainly showed up Picasso on that score, who along with Max Ernst, made a halfhearted attempt at designing gold jewelry, working with goldsmith François Hugo. Both Ernst and Picasso ended up with rather flat, lifeless plaques based on iconic images from their paintings.
The success of Braque's jewelry may have as much to do with the jeweler he chose to work with as it did his own ability to translate two-dimensional images into a wearable three dimensions. Interestingly, Braque's collaborator was known more as a lapidary than a goldsmith. They worked closely enough that Braque once referred to him as "the extension of my hands."
The results were revealed to the public in "One hundred jewels by Georges Braque," which opened at the Marsan Pavilion in Paris in March 1963, just five months before Braque died. More than 50,000 people attended and the French state purchased 11 pieces of jewelry.
Related posts:
Jewelry by famous artists (Picasso, Ernst, Braque)
Alexander Calder: going mobile
Salvador Dalí: bejeweled surrealism
Man Ray's jewelry by Gem Montibello