I've been obsessed with Hendrix again since watching the 1973 documentary Jimi Hendrix, followed by the 2007 biopic. Hendrix was long gone before I was aware he existed. So I grew up listening to him, not watching him. I remember parking in a cornfield with a high school boyfriend on a summer night, listening to Hendrix play the Star Spangled Banner.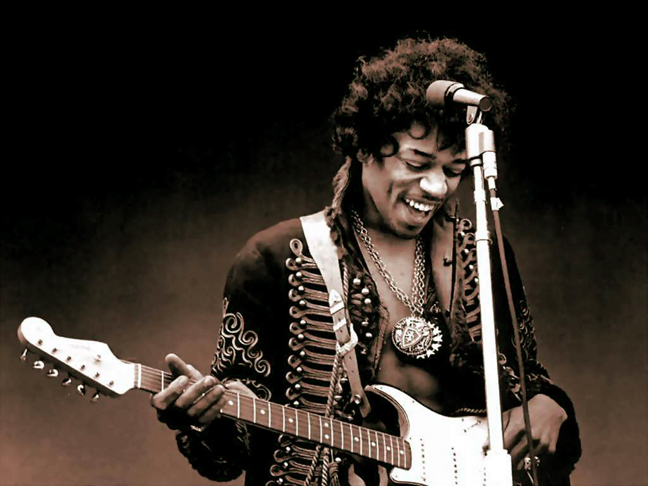 Personally, I preferred The Wind Cries Mary and, of course, Hey Joe and Wild Thing. I love his guitar playing but I love too his sad, soulful delivery. Having just watched footage of his performances at Monterrey and Woodstock, I have to say: You need to see Hendrix in action. How cool he moved. How fabulous he looked. And what a lot of jewelry he wore!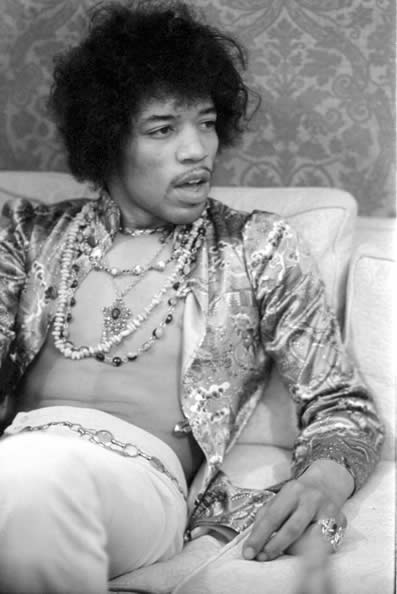 You have to be one bad dude to pull off orange velveteen bell bottoms, tie-dyed silk blouses, pink boas, masses of pearls and gems. Hendrix wasn't rocking the scary death crosses and skulls of the classic rocker. He was wearing love beads, and brooches on his hats.
Jimi started his career in Harlem but found more creative freedom in the Village, where it was considered perfectly acceptable that a black musician considered Bob Dylan a major influence.
However, it wasn't New York but mid-sixties London where Hendrix really found his personal style and launched his career. He was a major pop star there before he ever topped the charts in the U.S. It was in London that he discovered the vintage clothing shops where he found many of his signature pieces, including that full-regalia military jacket he performed in (above).
Sometimes, as at Woodstock, his costumes referred to his Cherokee heritage with long fringed leather jackets, head bands, layers of turquoise beads and rings.
Towards the end, it was anything goes. At first he seemed to be copping Little Richard with the mad hair – he traveled with pink hair rollers – and pencil-thin mustauche.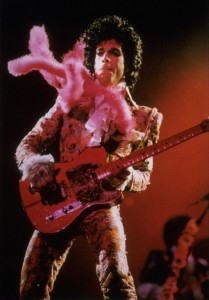 He was every bit as flamboyant as Little Richard – for whom he played backup in his early days and from whom he picked up some obvious style tips.  Prince later stole some of his own stage presence from Hendrix, including the pink boas and  military jackets (stage right). But in the end, each just made it easier for the next to find his own wild thang – while paying tribute to those who came before.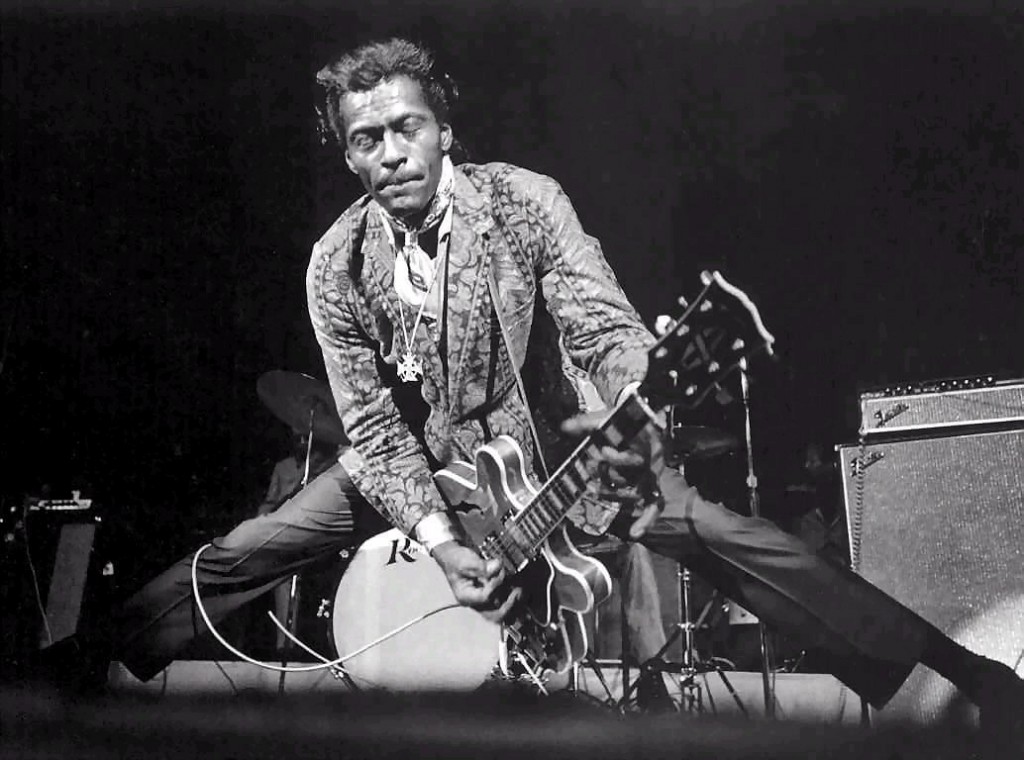 In his performances, it was Chuck Berry (above) that Hendrix paid tribute to, throwing a little of Berry's famous chicken walk into his acrobatic performances. Later, Prince would do the same with Berry's splits – as well as Hendrix's boas.
Despite the fact that Hendrix was getting more and more flamboyant and feminine in his clothing choices in the final days, turning up on TV talk shows wearing an embroidered, sky blue silk kimono, for example – he lacked the hint of the queen that Little Richard and Prince flaunted.
Maybe he beat the effeminate out of his persona by destroying his guitars, humping his speakers – roadies used to have to hold them up so they didn't fall off the stage – and threatening to set the stage on fire? (I wrote this magazine story about the astronomical prices those guitar fragments were bringing at auction.)
I don't know. Maybe it's just something deeply heterosexual that Hendrix radiated.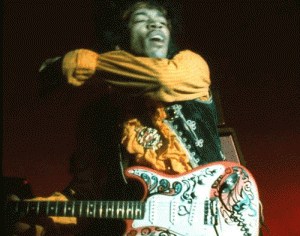 Somehow he was the model of the hard rocker, a true member of the rock stars in the heyday of electric guitar aficionados. He played with Eric Clapton and Pete Townsend of The Who, who were all paying tribute to the same black American blues legends that inspired Jimi.
Before he ODed on sleeping pills in 1970, ending what promised to be an endlessly interesting musical career, he gave them all a run for their money. And he managed, in a few short years, to leave behind a legacy of music, performance and style that's as captivating today as it was 40 years ago.
And the wind cries… Jimi.
Related posts:
How to wear jewelry like a rock star
How to wear jewelry like a rock star, part II
How to wear skulls like a rock star
Related products (buying through the links on my site doesn't cost you any extra but it puts a few pennies in my blog fund):