As Mad Men draws to a close after taking us through a time-travel adventure of 1960s Manhattan, I can't help drawing parallels to the Manhattan of a century earlier.
If you think the glitzy, boozy Manhattan of Mad Men is over the top, you should take a peek inside the Museum of the City of New York's new Tiffany & Co. gallery, where the exhibition Gilded New York spotlights a former generation of social climbers who left their mark on the city.
Pete Campbell of Mad Men descended from New York's old guard, the Knickerbocker society the exhibit shows gave way to the nouveau riche of the Gilded Age. We see this in the first-season episode, "New Amsterdam," a reference to the settlement that predated Manhattan, the Old New York that Pete's ancestors helped build.
Pete's bride Trudy finds a condo at 83rd and Park Avenue and takes her new husband to check it out. He's reluctant but agrees to ask his parents for help with the down.
"Are you sure you want to be that far uptown?' his father asks. "It falls off after 79th."
"No, darling," Pete's mother purrs. "They fall off after 86th."
Thus begins a clash between the snooty old-money Pete's family represents, now over-extended but still calling the shots, and the cheerful but determined new money represented by Trudy's clan. Ultimately, Pete's father turns him down for the loan and Trudy's steps up – a plot line that's been playing out for more than a century.
"I think the money came so quickly and so easily to the newer rich that they were much more casual about it, they were just having a good time with it," says Phyllis Magidson, curator of costumes at MCNY. She's talking about the new money of the late 19th century, but she could just as easily be talking about the new money of Mad Men.
Fashions may have changed, but Tiffany and Cartier were still producing the badges of wealth, as you can see in the exhibition.
Some things change, some stay the same, and some get completely reinvented. Take metallics – circa 1878, in a silk brocade wedding gown by Maison Worth on display at MCNY, and once again the height of fashion 90 years later on Megan Draper.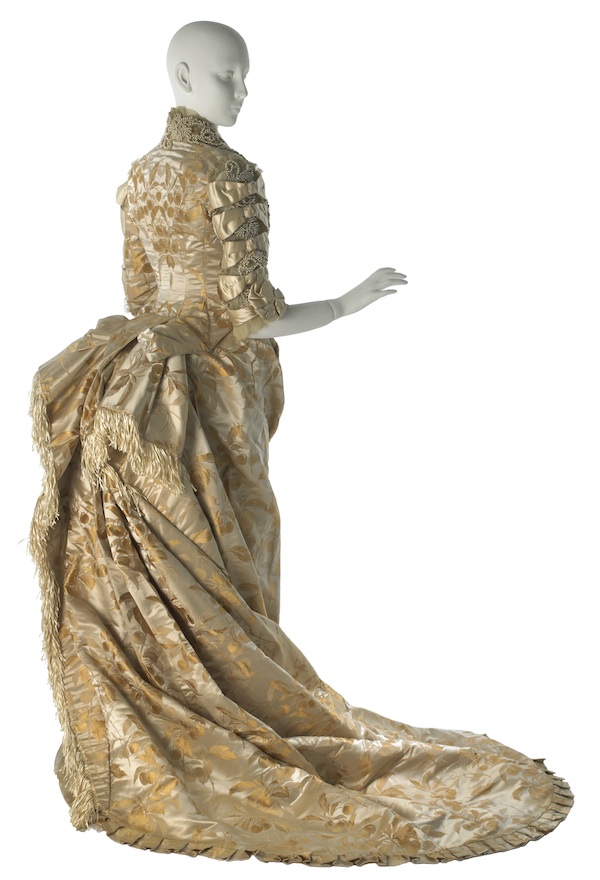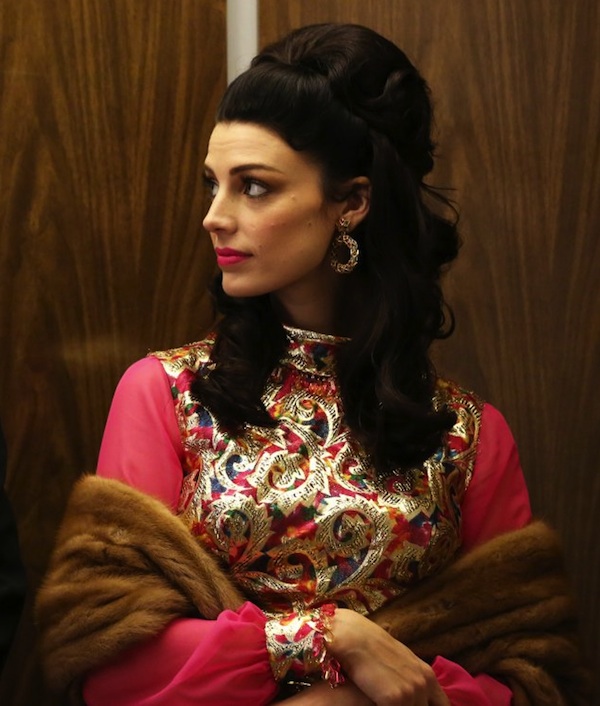 And the classic string of pearls, symbol of the less flamboyant, more well-behaved and well-heeled establishment female, circa 1880, and then early 1960s Betty Draper.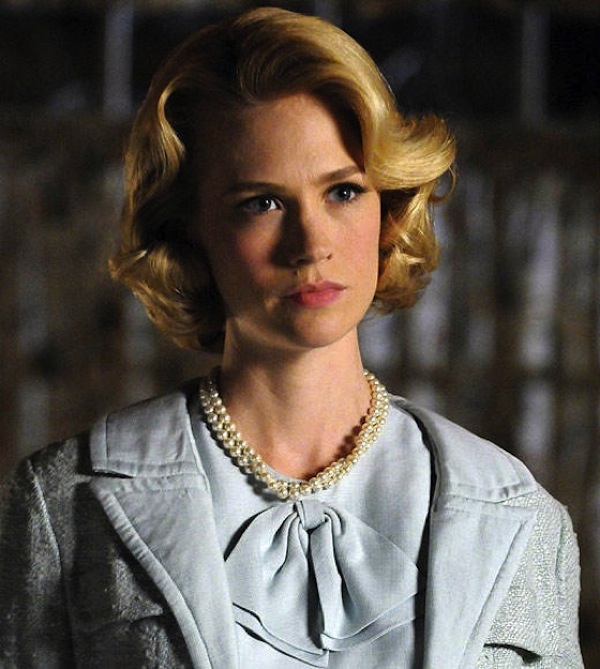 No big change there, at least in the conservative and feminine style Betty favors. Pearls have always been a safe bet among New York's elite. As Gilded New York shows, lifestyles of the rich and famous always involved pearls, even among post-Revolutionary War women. As you can see from the portraits in the new gallery, every woman of means wore them, usually in abundance. Here's one of the Gilded-era Tiffany beauties on display.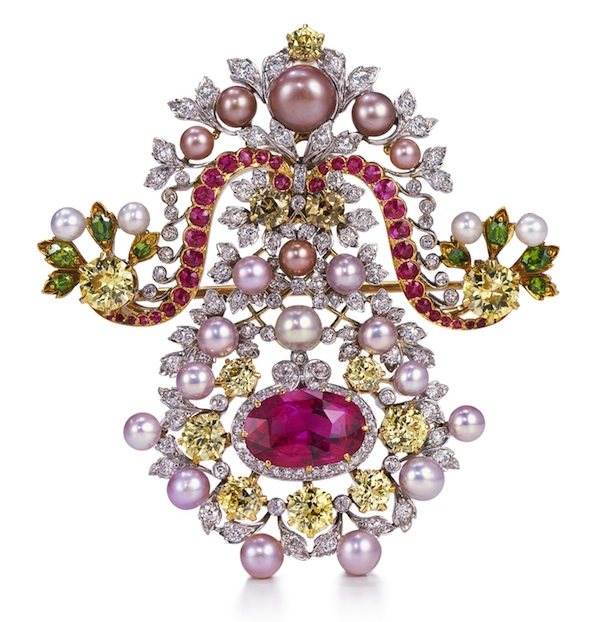 Brooch of platinum, gold, diamonds, pearls, Burmese ruby, demantoid garnets, and pink sapphires, c. 1900, by G. Paulding Farnham for Tiffany & Co. (Tiffany & Co. Archives)

"When you spend more money on jewelry, you tend to buy more conservatively, which is why pearls are a safe bet," says Jeannine Falino, who curated the jewelry (and wrote some fascinating essays in the book Gilded New York: Design, Fashion, and Society).
But by the swinging sixties, as Mad Men shows, wealthy urbanites were wearing beautifully-made, over-sized fakes. Roger's youthful second wife, Jane, was the perfect model for that look.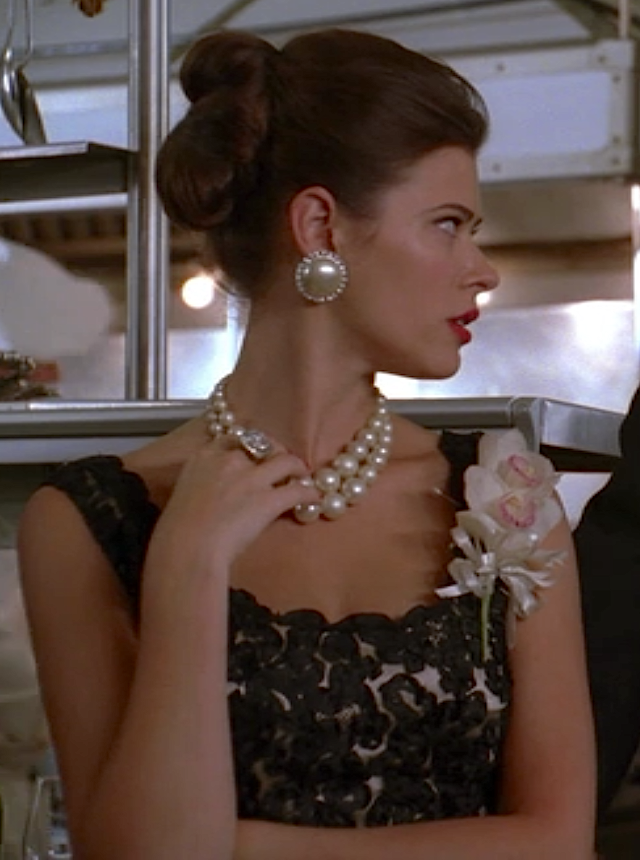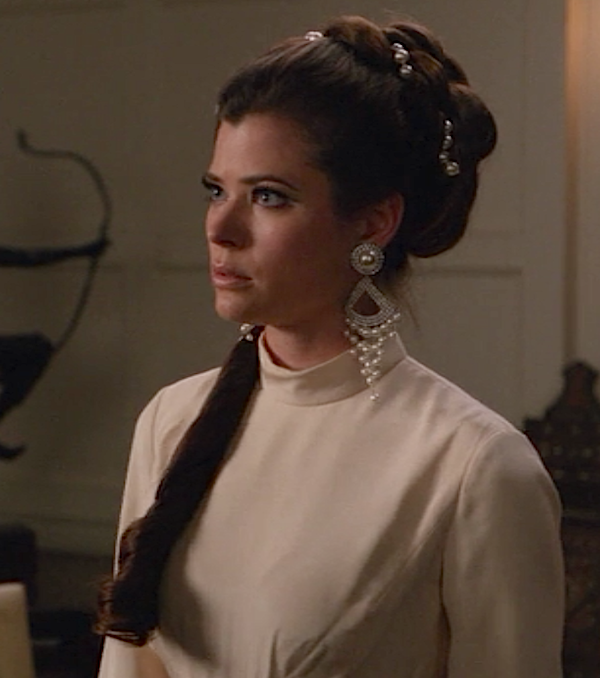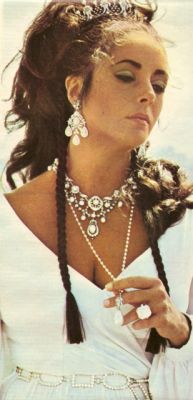 In the second shot, Jane – or rather Janie Bryant, costume designer for Mad Men – was channeling Liz Taylor (see, right, the shot of Liz I posted here). But all of them, on some level, were channeling the pearl-bedecked, hair-adorned women of the Gilded Age costume ball.
A century after the period explored in Gilded New York, what's now known as midtown Manhattan had become a center of advertising and commerce. Agencies like Sterling and Cooper, the fictional one Mad Men revolves around, were a strategic alliance of new money funding and old money connections – the kind Pete Campbell provided.
Pete's parents (and Pete himself) are the picture of preppy-casual old money in contrast to Trudy and her parents who are carefully dressed and cheerfully affectionate. Later, we discover Pete's dad has quietly blown through what was left of the family fortune to keep up appearances, but when he turns Pete down for the loan, he's imperious and condescending.
"Why is it so hard for you people to give me anything?" Pete says.
"We've given you everything," his father replies. "We gave you your name. And what have you done with it?"
As the episode ends, Trudy closes the deal on the apartment, knowing instinctively what the co-op manager wants to hear: the story of how Pete's ancestors, descended from Mayflower pilgrims, came to own a huge section of upper Manhattan. It doesn't matter that they lost it long ago. Pete is the American equivalent of a man with a title.
Smiling uncomfortably, Pete moves away from the conversation to gaze out at what is about to become his view of the city. As Ella Fitzgerald launches into the Rodgers & Hart classic, I'll Take Manhattan, the chatter fades, the camera takes us into the glittering night, and we feel the lure of the city that's been driving generations of gilded New Yorkers.
Related posts
The women of Mad Men: Joan and Megan
Elizabeth Taylor: jewels of a lifetime
Van Cleef & Arpels: celebrity style
Related products