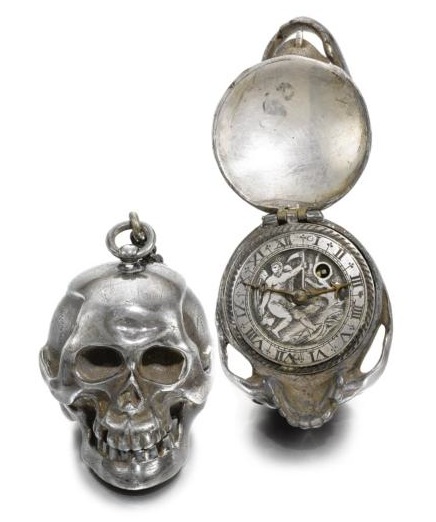 Since the beginning of time, it's been used as a symbol of mortality, victory, the ultimate Memento Mori.
Long before Nazis turned the death-head into a symbol of fear and bikers and rockers a charm for cheating death, the skull represented the contemplation of eternity.
In Elizabethan England, it was an emblem of bawds, rakes and sexual adventure. It's a symbol men, in particular, have always loved to paint, carve, cast, and wear.
Top to bottom:
Renaissance-style gilt verge watch, c. 1880, with engraved figure of Chronos inside, sold for $5,000 at Sotheby's London in December 2010.
Silver skull-form watch with matching fob chain, late 19th century, sold at Sotheby's New York in 2008 for $3,438.
Pirate Dress Set (pair of cufflinks and three studs) by Michele della Valle of 18kt white gold, silver, bone, ruby and diamond, est. $3,000-5,000, sold for $18,750 at Sotheby's New York on February 2, 2011.
Skull cufflinks by Deakin & Francis of diamonds in 18kt white gold with retractable ruby-set eyes, sold for $10,625 in February 2010 at Sotheby's New York.
Stickpin skull with hinged jaw, made in France, c. 1867, of gold, enamel and diamond, sold for $19,570 at Sotheby's London in 2003.
"For the Love of God" by British artist Damien Hirst, cast in platinum from the skull of a man who lived from 1720 to 1810, encrusted with 8,601 diamonds, and priced at $99 million in 2007.
Skull ring and matching earrings of carved coral, pavé diamonds, and 18k white and blackened gold, sold for $12,840 at Christie's Hong Kong in 2007.
White gold cufflinks with diamond eyes by Ralph Lauren, priced at $10,995.
Charm bracelet by Michele della Valle of carved coral skulls with emeralds, rubies and diamonds set in gold, sold for $23,760 at Sotheby's Geneva in 2010.
Related posts:
How to wear jewelry  like a rock star, part II
How to wear skulls like a rock star
How to wear jewelry like a rock star: ode to Jimi
Related products: