This Sunday, Mad Men launches into its seventh and final season, wrapping up a journey through the swinging sixties that began in 1960 with their pilot, aired in 2007, and looks like it will end just as the seventies begin. Our first glimpse into the mad cap world of Madison Avenue ad men – and the women who love and/or compete with them – looked a lot more like the 1950s than the 1960s.
Last season took place in 1968 and 1969, when fashions were beginning to look more like what we think of as the 1970s – especially among the trendsetters of the cast. I'm thinking especially of Don Draper's second wife, Megan, played by Jessica Paré, who rapidly transitioned from secretary to junior copywriter to actress to soap star. This is what she looks like in the final season.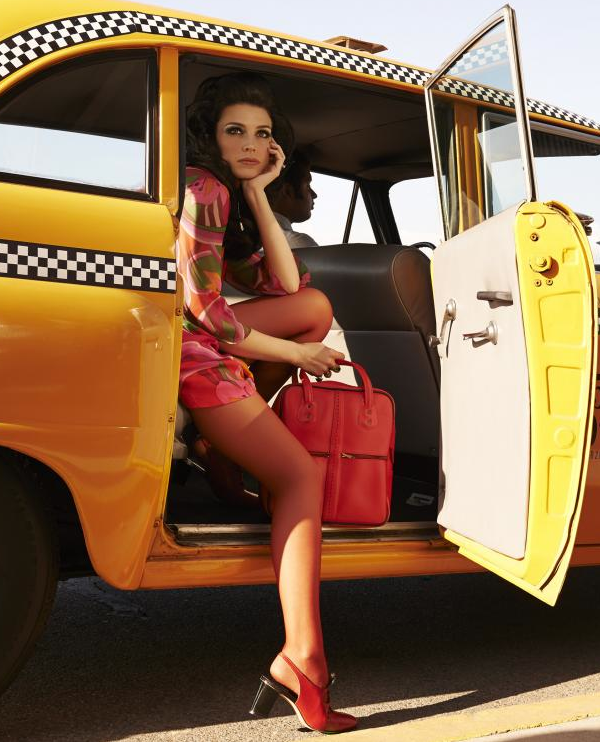 While Megan always had a certain chic, a European-syle fashion sense – she hails from Montreal – her ensembles were noticeably conservative in her secretarial days, become bolder and more expensive after she marries Don, and then outright glamorous after she lands the role on a daytime soap.
When we first meet her as a secretary, Megan wears her hair neatly pinned in a twist with button earrings, although she's one of the first Sterling Cooper secretaries to rock the mid-sixties hoop. By the end of last season, she wears her hair piled high on top with long loose waves and favors metallic fabrics and bold, abstract prints. Her jewelry had expanded to chunky cocktail rings, textured gold bangles, layered pendants on long chains, shoulder-duster earrings – often worn all at the same time. Megan has the long limbs and neck – and striking features – to pull this off.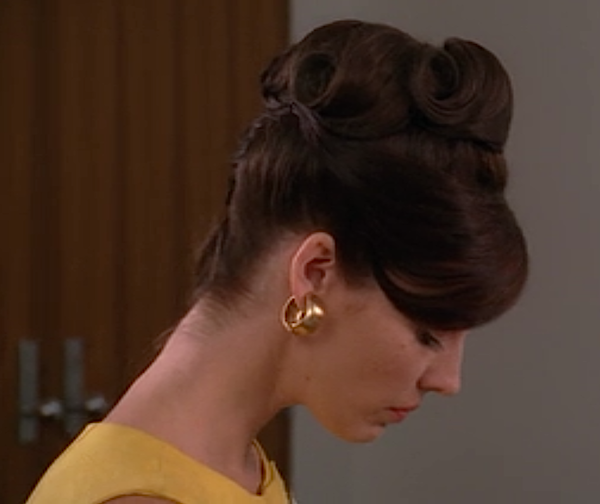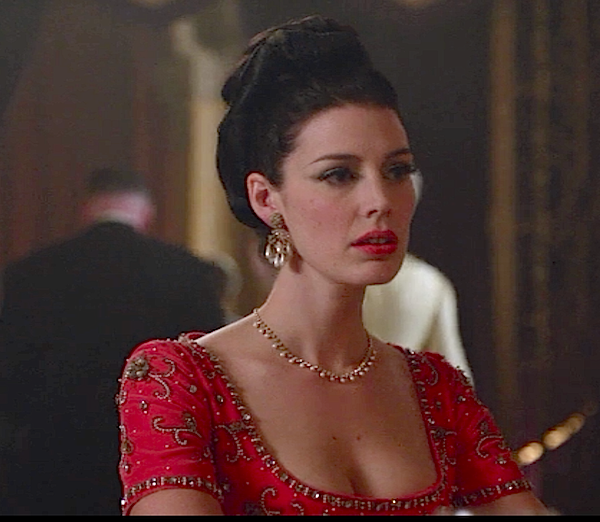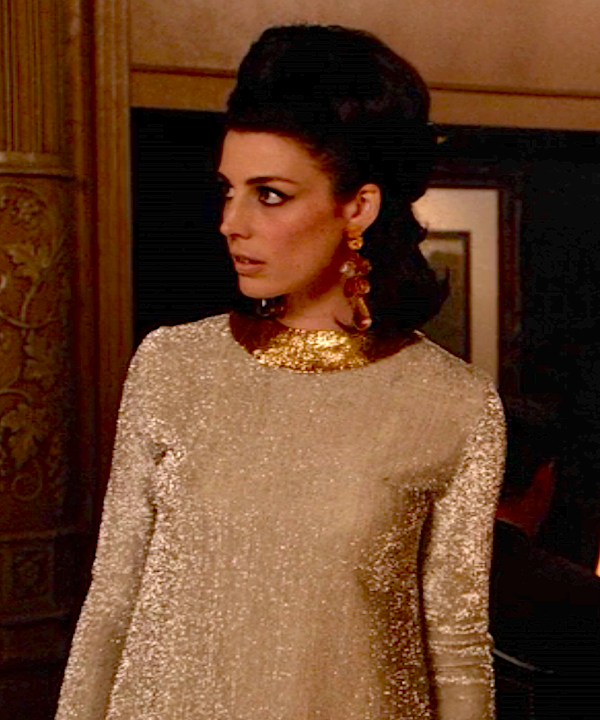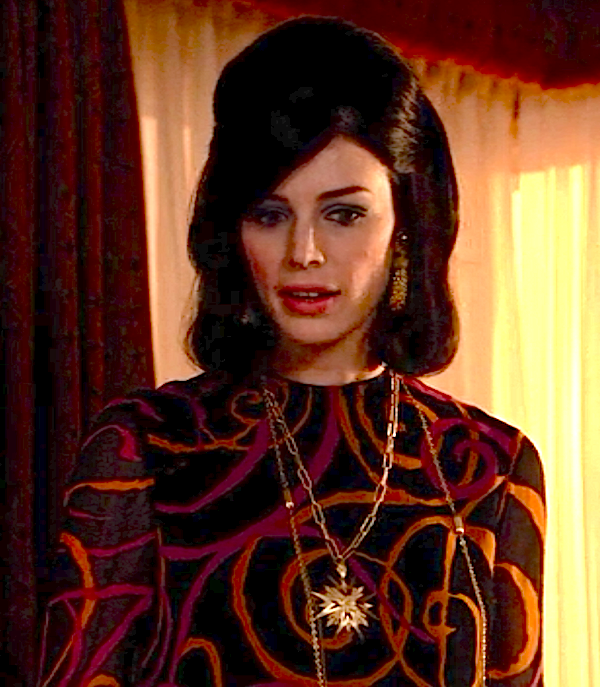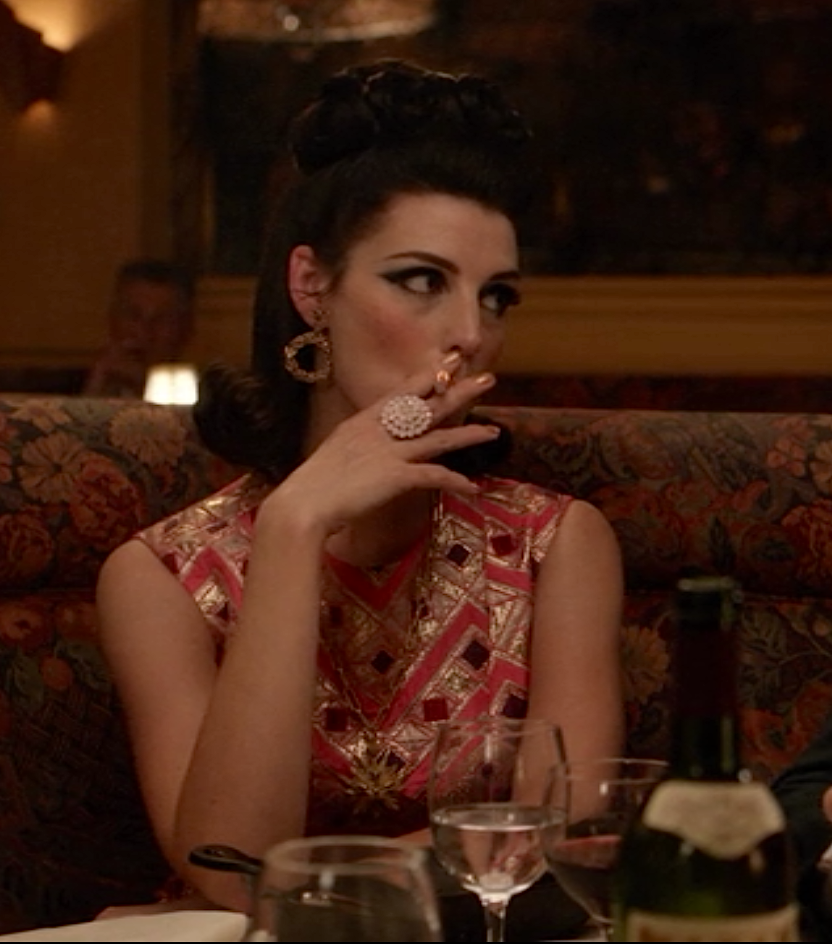 By the start of last season, her influences had shifted from the business world of Madison Avenue to the more flamboyant theatre and television world of 1960s Manhattan. She looked up to the lead actress of her big-break soap opera, who is alternately teaching Megan the ropes and trying to get her into bed.
It appeared the other more confident and established actress was influencing what Megan wore as well. In this scene, she's getting tipsy over girl talk in Megan and Don's penthouse. (Megan thinks they're having intimate girlfriend bonding but her co-worker has a more literal definition for that.) Notice the multiple rings on each hand, big pendant on long chain, and textured bangle. She's also wearing big hoops. She and Megan could be jewelry twins.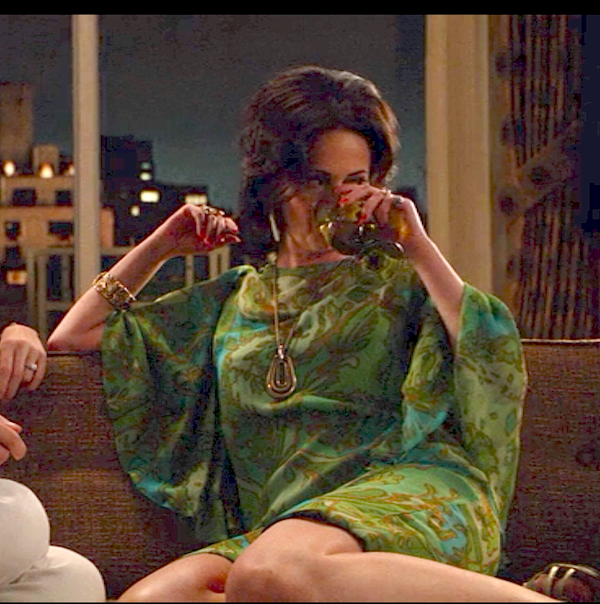 In this shot, she could also be the character Valerie Harper played on the Mary Tyler Moore Show, which premiered in 1970, a year after this scene takes place.
At the close of last season, Don has just raised Megan's hopes only to dash them – which is what Don does – by announcing  they're moving to Los Angeles so he can set up the West Coast branch of the agency. Thrilled that she can now pursue film acting, Megan quits the soap opera. When he breaks the news that he's changed his mind, Don tells her they can be "bi-coastal." We're about to find out how that worked out. Judging from the promo shots for season seven, Megan is not at her happiest but her fortunes don't seem to have diminished. In fact, I'm betting she's moving up in her career just as her marriage is crashing and burning.
Before we watch their denouement, let's revisit a happier moment in Megan's married life, when she embarrasses her new husband by throwing him a surprise party and provocatively singing, in front of his entire staff, the French pop song Zou Bisou Bisou. She's still a copywriter in this scene but she's doing what she loves most: grabbing the spotlight and vamping it up. The jewelry she wears here – dangling diamond earrings, chunky cocktail ring – foretell the dramatic life change she's about to make. Don has no idea what he's in for.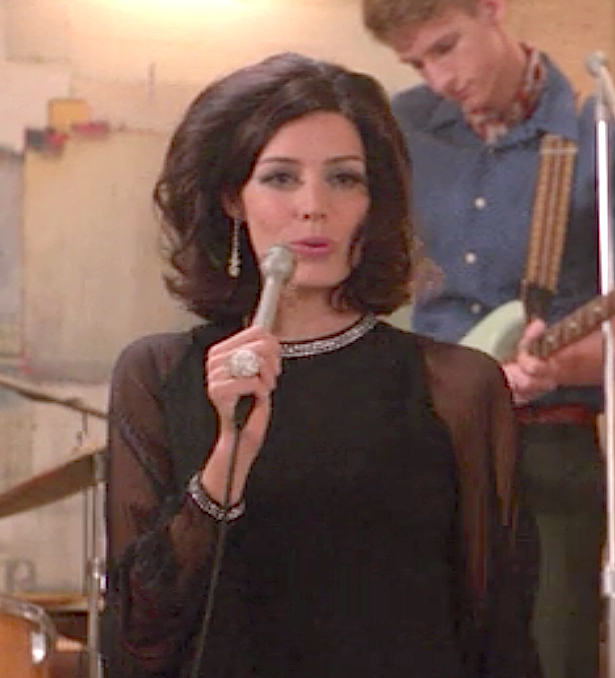 Next day at the office, Megan's performance is the butt of every joke. But she turns out to be pretty darn good at her job, wins an award for a baked bean commercial, decides carving her legacy on Madison Avenue surrounded by these neurotic drunks is not so much after all. So she moves on to show biz. As Peggy predicts to Joan at the time, Megan turns out to be good at everything: "She's just one of those girls."
Except maybe in her personal life. But that could be said for just about everybody on this show.
Related products