Jeanne Toussaint (1887 – 1978) dramatically impacted jewelry design during her decades as director of Cartier's luxury jewelry department, which she took over in 1933.
Under her guidance in the late 1930s, Cartier began to move away from abstract Deco designs and into figurative work such as a series of black lacquer lady bugs and American Indian-head brooches.
She is also responsible for Cartier's whimsical birds. Most famous is the caged bird that Cartier introduced in 1940, a symbol of resistance against the Nazi occupation, and the version that appeared in Cartier's windows days after Paris was liberated: the bird poised for flight, cage door open.
"She felt that jewelry needed to be based on joy," says jewelry dealer Dianne Lewis-Batista. "What better subject than birds?"
Exotic parrots and flamingos were Toussaint's forte, as were panthers—an image Cartier is known for to this day. Legend has it that Toussaint spotted a panther while in Africa with Louis Cariter and exclaimed: "Onyx, diamonds, emeralds – a brooch!"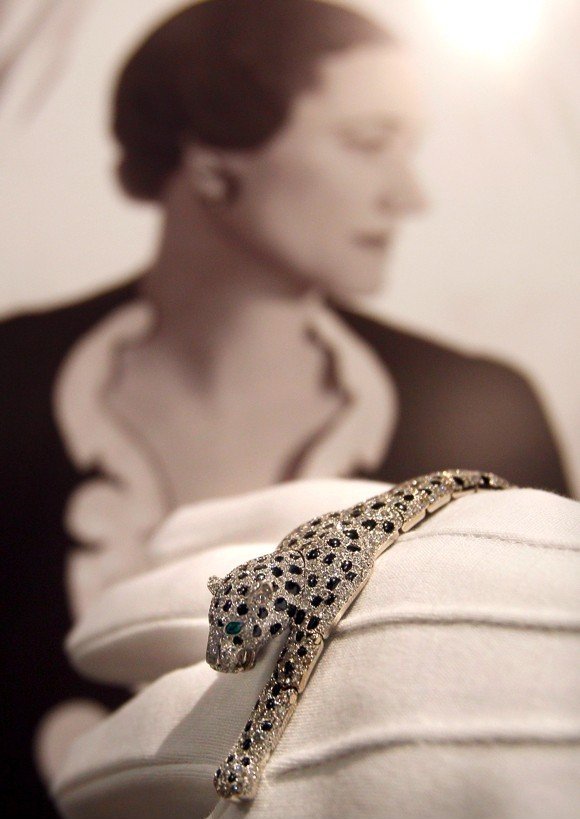 Nicknamed "the panther," Toussaint obviously identified with this sleek predator. Her apartment was filled with their skins and she wore panther coats.
The panther brooch struck a chord with other strong-willed females of the day. Among its wearers: Barbara Hutton, the Duchess of Agha Khan and the Duchess of Windsor.
This beautifully articulated diamond-and-onyx panther bracelet (right) was made in 1952 for the Duchess of Windsor, the American divorcée who inspired the king of England to give up the thrown and spend his life showering her with jewels. This famous panther will be sold at Sotheby's London next month, possibly for as much as $2 million – about 20 times the estimate for the panther bangle (above) offered today at Christie's New York. (UPDATE 11/30: The panther brooch once owned by the Duchess sold for $7 million, while the bangle went for $458,500 – both about four times the estimates.)
Toussaint also traveled to India and helped launch the fashion for Mogul-style jewels with Indian coral and cabochon emeralds.
"Cartier would not have gone in the same direction without this very strong woman behind the scenes," Batista says.
Related posts:
Women who paved the way: Jeanne Poiret Boivin
Women who paved the way: Suzanne Belperron
Related products (Buying from links on this site does not cost you extra but does put a few cents into the maintenance of this blog):