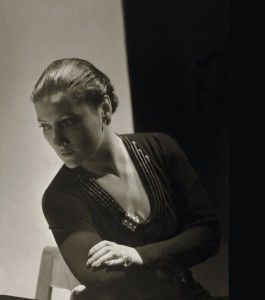 Suzanne Belperron (1887-1983) honed her skills at the House of René Boivin from 1921 to 1931, and when she left, took not only her design experience, some say, but a few of the designs as well.
Audrey Friedman, who collects and sells Belperron's jewelry through her Primavera Gallery in Manhattan, has seen almost identical pieces, sometimes with Boivin's marks, sometimes with Belperron's.
Whether Belperron stole Boivin designs or Boivin continued making Belperron's designs after she left, there is no doubt that Belperron developed her own distinctive vocabulary in the decades that followed, building an international reputation that continues to grow.
Recent sales of her jewelry demonstrate that she is becoming one of the most avidly collected 20th century designers.
In 1933, Belperron formed a partnership with pearl dealer Bernard Herz, who had been supplying Boivin since 1912. Herz died in a concentration camp in 1943.
His son returned from the war two years later to take his father's place at Herz-Belperron, an alliance that lasted until 1974.
Although Belperron is famous among jewelry insiders, it's not unusual for small-town jewelers to draw a blank when her name is mentioned, as the late Manhattan dealer Barry Weber once pointed out on the Antiques Roadshow. "She is not a household name, such as Cartier or many of the other famous French designers," Weber said. "She was a very famous French designer but one whose work is so rare that we seldom see it and it hardly ever comes available in the market."
Among the clients of the glamorous Belperron, a celebrated beauty in her day, were Colette, Frank Sinatra, Diana Vreeland, and the Duchess of Windsor. The duchess favored the blue chalcedony pieces in which Belperron used a minimum of metal in the mountings so that the gems—often blue sapphires—appear to cling like dewdrops to a translucent, sculpted base.
"Her talent in designing jewelry was in combining and manipulating materials," says Friedman. "She was partial to non-precious material—agate, rock crystal, chalcedony and citrine—and made it the focus of a piece. Her work was very personal and very dramatic."
More women who paved the way:
Related products (Buying through links on this site does not cost you any more but does add a few cents to the maintenance of this blog):